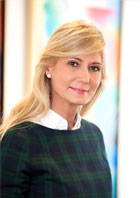 Ines Schamburg-Dickstein
Lawyer
Specialist Lawyer for Tax Law
Having completed the Second State Examination in Law in 1991 in Hamburg, I had taken up a teaching assignment for commercial law at the University of Applied Sciences in Bremen. In 1993 I joined the auditing firm Susat & Partner in Hamburg, now known as RBS RoeverBroennerSusat. During ten years as a lawyer with Susat & Partner I have supported complex transactions in the fields of corporate, tax, and inheritance law including extensive succession planning. In 2003 I became partner in the law firm Dr. Dickstein Rechtsanwälte.
As specialist lawyer for tax law I have long-standing experience and the highly-specialized expertise needed to successfully advise and represent our clients in the areas of tax and criminal tax law as well as corporate, inheritance and contract law. This includes the nationwide representation in dispute proceedings before tax authorities and fiscal courts and in cases regarding criminal tax law at all stages of the preliminary investigation along with the careful handling of voluntary self-disclosures and the representation before court. Alongside the provision of ongoing corporate counselling and, if desired, management of corporate affairs, I draw up the required contractual agreements in a fiscally optimized manner. I handle donations, inheritance procedures as well as succession planning and the drafting of wills with utmost care to best serve the needs of our clients, while ensuring that gift and inheritance taxes are minimized.
Our clients also benefit from my scholarly work on the laws on stock and limited liability companies. Together with Dr. Werner Bohl, lawyer and chartered accountant, I have commented on selected regulations concerning limited liability company law in the commentary 'Handbuch der Rechnungslegung' (Küting/Pfitzer/Weber (eds.), Schäffer-Poeschel Publishing).
I have also written the complete commentary on the German Corporate Governance Codex (DCGK), which is concerned with the requirements of good corporate governance. It has been published in 'Handbuch der Rechnungslegung' (a commentary on accounting). The recommendations and suggestions of the DCGK concern the annual general meeting, the management and supervisory board, conflicts of interests as well as the annual auditors. A special focus of my work is the liability risk of board members (executive and supervisory board). Regarding questions related to D&O insurance, in collaboration with my partner Dr. Peter S. Dickstein – specialist lawyer for insurance law – we also offer our clients interdisciplinary advice in this context.
With passion and performance, experience and know-how, esprit and fresh ideas we make a positive change for our clients.
Languages: German, English
Business Card:
Ines Schamburg-Dickstein
Lawyer
Specialist lawyer for tax law
Partner
Neuer Wall 61
20354 Hamburg
Phone: +49 40 35 01 97 60
Fax: +49 40 35 01 97 61
info@legalteam.de

Memberships:
Mitglied der Hanseatischen Rechtsanwaltskammer
Mitglied des Kirchenvorstandes Domgemeinde St. Marien
Mitglied des Vorstandes einer gemeinnützigen Stiftung in Hamburg
Mitglied eines internationalen Serviceclubs
Vorstandsmitglied Freunde des Ballettzentrums Hamburg e. V. John Neumeier